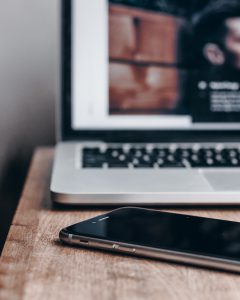 For professional associations across all industries, websites have become a non-negotiable standard. However, while association websites remain a key element of your online presence, they fall woefully short where member engagement is concerned. Despite being the best place to house content, they are not equipped to drive meaningful, ongoing interactions between members and your organization.
Members visit your association website sporadically and on their terms. It can only engage the member so long as they're seated at their desktop, or have a browser open on their mobile device. Once they close the tab, you lose them. To drive ongoing engagement and member retention, associations must meet members where they are: on their smartphones, with a mobile app. As we will explore, mobile apps succeed where mobile (and desktop) websites fail. As a result, you'll learn why the creation of an association app has become critical to your member engagement strategy.
Today, you don't have to choose between a website and a mobile app. Mobile apps are just not for deep pocket organizations anymore, new technologies make custom apps affordable and manageable for all size organizations.
Websites Are For Content, Apps Are For Engagement
Your association website allows you to convey important information through various forms of digital media, like blogs, videos and infographics. Although it can serve as one of the most effective channels for distributing content, this one-way communication model comes with a number of inherent limitations, leaving plenty to be desired on the engagement front.
Limitations of an association website for engagement include:
Reliance on External Communication Channels: Association websites are visited too infrequently to engage with users directly, so associations are often forced to distribute announcements and messages through additional means like email.
Inferior User Experience and Navigation: While some websites do come equipped with an online member portal or discussion board, they lack the accessibility and responsiveness of the handheld mobile experience. This is the same reason countless consumer-facing companies encourage you to download their app, rather than operate on their site, i.e. financial services, airlines, food and beverage, social engagement, etc.
Management Costs: A lot of organizations use a third party to build, host and manage their website. Having to engage with a third party or staff for adding new content, managing branding, etc. can take a lot of time and get expensive.
Timeliness: Hot topics for discussions, interactions and feedback can be lost if relying on web visits today.
Speed and Data: Websites usually store and retrieve all data from web servers vs apps store data locally on the mobile device making data access faster.
To foster quality connections within your community, your association's mobile app must play a central role, supplementing the areas where your site falls short. It's worth reiterating that building an effective engagement strategy doesn't mean you have to choose between an association website or a mobile app, as both channels have an essential role to play. We encourage associations to take a holistic multi-channel approach to obtaining and retaining members.
Why Mobile Apps Are More Effective at Engaging Members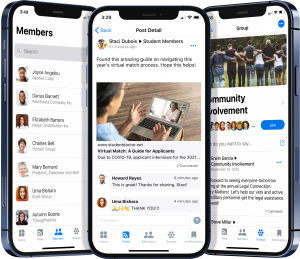 How do you measure the success of a professional association? Member count? New sign-ups? Member retention? Number of events? While all of these factors play an important role in the long-term success of an association, in most cases they all correspond to the single most important metric—member engagement.
Engaged members are more likely to invest their time, money, and energy into their community, translating into a far more robust and resilient association. What's more, poor engagement can be one of the highest drivers of member attrition, with as many as 58% of associations stating that their members don't renew due to lack of meaningful interaction.
There are few initiatives with a higher return on investment than creating a mobile association app. Creating, launching and managing a mobile app is easier to create and manage, quicker to launch, and less expensive than a website. Mobile apps allow you to build strong ties with your community in ways that a website simply can't.
Convenience, faster, less expensive are just a few advantages of mobile apps for engagement, others include:
Better Personalization and Branding: Apps provide dynamic user experiences based upon a members or supporters interests, engagement levels or upcoming events.
Member Generated Content: A proper custom branded mobile app should provide a true two-way communication platform for members to engage with each other in live discussions or conversations while also enabling feedback to the organization in real time.
Push Notifications and Announcements: Unlike a website, mobile apps come with the ability to send targeted or general push notifications. Notifications can reliably redirect members' attention back to the app, even after they've closed it. Moreover, they're guaranteed to see it because they keep their smartphones on them at all times. The same can't be said for a desktop computer.
Accessible Feedback Tools: Mobile apps can provide a more intuitive interface for gathering data and feedback from your users. Associations can leverage built-in polls and surveys to ensure their members always feel their voices are being heard.
Groups: Forming and providing collaboration opportunities for small groups of members or supporters to engage with one another is a great benefit of a mobile app. Providing members the opportunity to manage a small committee or group right from the app lessens management time while also having members drive participation.
Feed and Discussions: Real time and two-way communication is a must in today's digital world. Providing a platform to promote and engage members and supporters on critical topics essential to your organizations viability whether it be legislative issues, industry topics or association activities and events is a must today.
Complement Your Association Website With A Mobile App and Improve your Engagement Strategy
The benefits of creating a native mobile app are too compelling for association managers to ignore. If you're not leveraging a mobile app, it's likely your association isn't meeting its full potential.
For an association without experience in this area, the process of developing a mobile app can feel like an insurmountable challenge. Fortunately, with a partner like MobileUp, associations can streamline and accelerate the entire app creation process.
MobileUp's unique SaaS architecture and cloud-based delivery platform lowers costs and increases usability at every step in this journey, allowing associations to create a high-quality mobile app without breaking the bank. If your association is ready to take member engagement to the next level, MobileUp is ready to help unlock your association's full potential.