GoEngage: A mobile engagement hub, built around your organization.
Build a mobile solution that puts your organization at the center of a member's workday.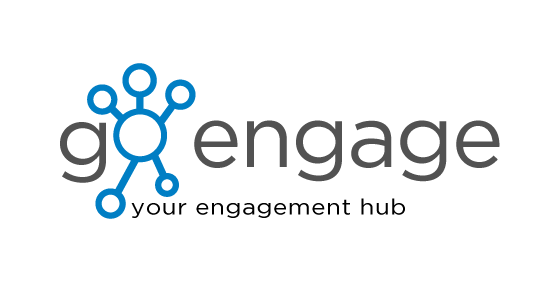 MobileUp's GoEngage platform is a no-code software platform that enables your organization to launch a community-oriented mobile app in Hours, not Days and Months.

Built around a WYSIWYG admin interface, non-technical professionals can build and launch app that has all the features that an organization needs to engage members or constituents.
Need to effectively reach your community members on their mobile devices?
GoEngage by MobileUp provides everything you need to build, launch, and manage your organization's mobile engagement hub, in a matter of hours!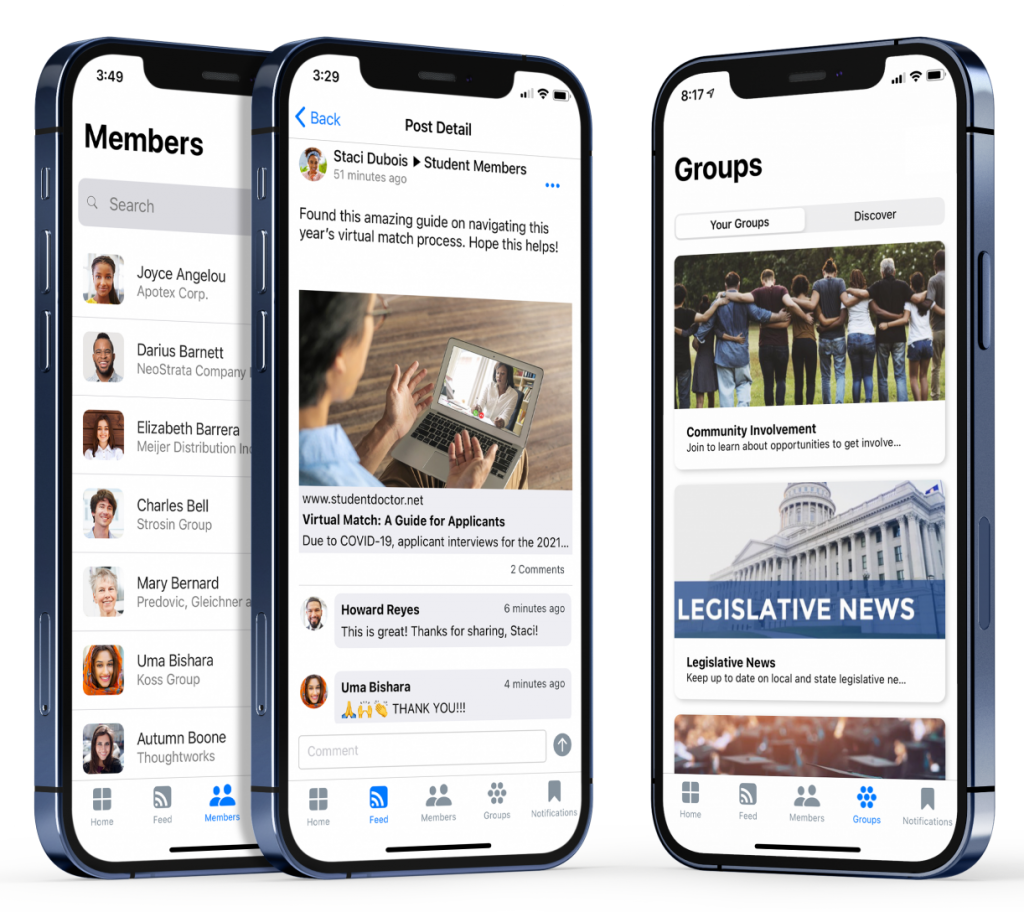 Membership Management
Integrate with your AMS or other data sources to drive targeted content and communication for all members and prospects.
Conferences and Events
All one solution. Deliver a complete Conference or Event experience to your attendees in one single app for both episodic and year round engagement. See more details below.
Directories & Digital ID Cards
Provide unlimited number of directories (people, places or things) that provide valuable information to your organization. In addition, member profiles can be used to create a digital ID card.
Groups & Committees
Provide small groups, committees, chapters, advocacy, etc. the ability to create and manage their small but critical organizations within the app.
Discussions
Allow app participants to engage with one another on various important organizational topics or thoughts such as advocacy, mission and purpose, committee engagement, etc.
Sponsorships
Generate additional revenue by highlighting & promoting sponsors within the app. Sponsorships can be supported at the top level of the app or only at the Conference/Event level.
Mobile Payments
Collect dues, fees, or other payments through the app or link to existing payment forms on your website.
Calendars
Provide members with an easily accessible list of important dates and upcoming events.
Member Benefits
Integrate with third party discount providers or utilize the power of the directory module to promote and display discounts and other valuable member benefits within the app.
Blogs & Stories
Provide interested members the ability to create and post blogs or stories right from the app and allow them to attract followers thus driving greater engagement and value for your members or interested parties.
Notifications
Send out timely communications and information to all or a subgroup of members.
Aggregated feed
The Feed system provides a top level aggregation of various curated discussions or topics of interest in one place for members to consume and even participate in.
Need a branded, content-rich app for your conferences and events?
Not to mention affordably? GoEngage by MobileUp provides everything you need to build, launch, and manage your event app in a matter of days!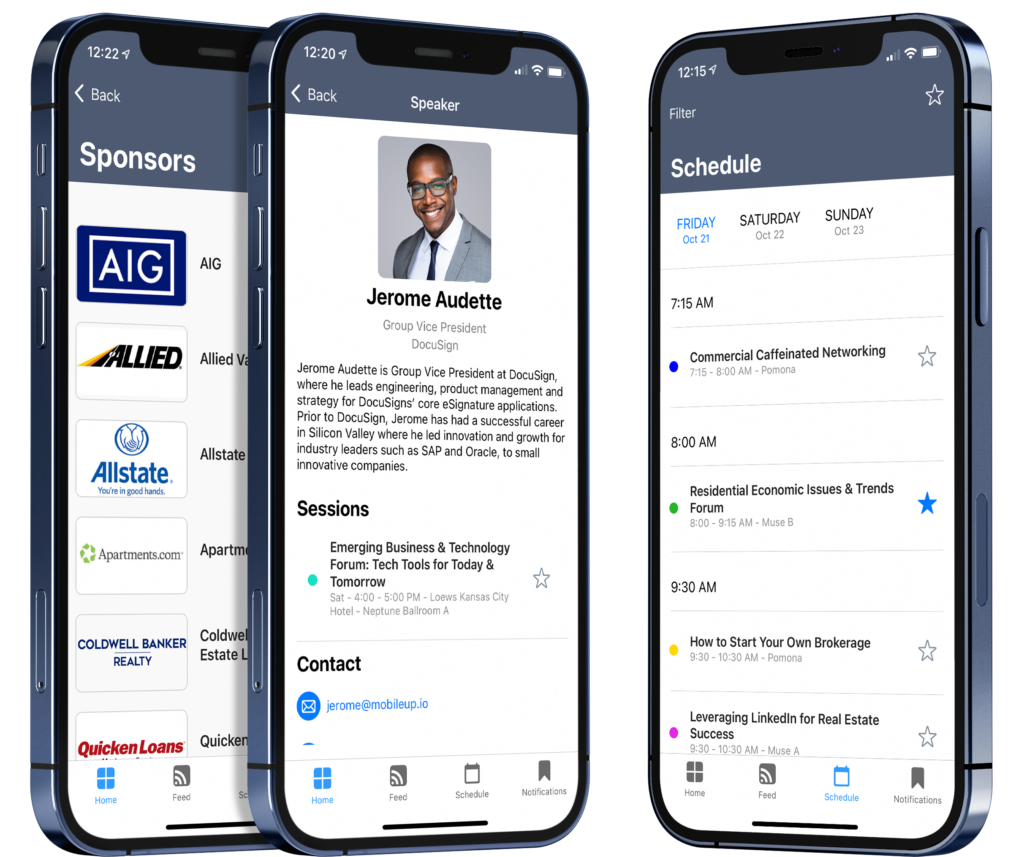 Event Management
Build out your entire event including speakers, sponsors, sessions, materials and much more. In addition, integrate registration data right into the system to ensure all the latest information and materials are available and accessible for every attendee.
Feed for Collaboration and Communication
The system Feed feature provides a robust platform for communication and engagement during your event. The Feed can enable dialog between all attendee on discussion topics and more.
Virtual Zoom Integration
This provides the ability using the Zoom software development kit to create a Zoom integration and access for any session for attendees to log into if they cannot be present.
Registration Information
Provide small groups, committees and chapters the ability to manage their small organizations within the app.
Surveys and Polling
Attach custom surveys to any session as well as at any time throughout your event. All data is stored and easily exported. No limit to the number of surveys.
Event Website
Every event created within the GoEngage platform auto generates a website for attendees to use if they wish to view through a web browser.
Sponsorship revenue
Generate sponsorship revenue by providing a great engagement opportunity for both Sponsors and Exhibitors right in the app.
Directories
Provide members with an easily accessible directories of attendees, sponsors, exhibitors, things to do and much more.
Notifications
Send out timely notifications to all or specific groups of attendees.
Billboard Carousel
Highlight event or daily sponsors, exhibitors, speakers, etc. in the top level image carousel. Any image can link to deeper content for even greater value.
Go Green
Save printing materials and expenses by putting everything from presentations to other event materials right in the app for consumption and downloading.
Speakers and Materials
Provide robust biographical information on speakers and include downloadable materials right from the app.
The GoEngage Difference
No Coding Necessary
GoEngage allows you to create your own mobile app using a simple drag-and-drop interface and publishing tools.
Strategy to App in Hours
Don't wait days or months for your mobile app. With GoEngage, you can design, build and deploy a whole new solution in days.
IT- Not Needed
With built-in security, hosting, and modern integration capabilities, you don't need IT support.
Mobile First
GoEngage allows you to create your own member mobile app using a simple drag-and-drop interface.
Scalable
Whether a 50 person affinity group or 1 million member organization, GoEngage scales and performs to meet your needs..
Extensible
GoEngage does not operate on an island. Through the robust Integration and Single Sign-On GoEngage leverages data and other organizational assets.
Reach your members anytime, anywhere.
Stop relying on just your website and email campaigns. A native mobile app can increase member engagement by 5x in terms of visits, opens, signups, posts, and downloads.​
Join the 500+ associations and organizations using the GoEngage platform to reach over 10 million members and other stakeholders.
Your members check their phones dozens of times each day and now you can reach them there. Manage memberships, notifications, news, calendars and much more, all from the GoEngage mobile app platform.
The GoEngage Platform makes life easy for administrators.
Our easy-to-use admin dashboard that makes it extremely easy for you to import content, post about upcoming events, and monitor member activity.
We integrate with your AMS and other applications.
The GoEngage platform integrates with a number of technologies that associations commonly use, including your AMS (Association Management System). One less platform you have to manually update.
You get comprehensive – and affordable – functionality.
Remember when building a mobile app cost a lot? Those days are long done, thanks to the GoEnegage platform. It's cost-effective and budget-friendly for any size association.
Design and deploy fast.
There's no complex software to download. Nothing complicated to learn. Our drag-and-drop user interface means you can configure and deploy your member mobile apps in days, not months. And we pair you up with a dedicated expert to make sure you can start fast, and finish fast.
Design and deploy Enterprise-grade security and four-9 reliability.
GoEngage is built atop a true enterprise-grade cloud infrastructure. We're SOC compliant and provide system redundancies with reliability of 99.99%.
Easily extend or integrate with your existing apps.
Our APIs allow you to connect to membership management apps, mobile payments, content management and more.
We're taking the power to develop to the people.
Client Testimonials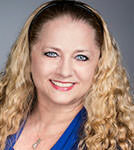 "I love your event app! I was able to get our entire program uploaded and ready for our attendees to use. I received many compliments during our event about the ease of use for attendees and we plan on using it for more upcoming events. I'm very happy with the MobileUp conference and event app and look forward to using it for future events. You've made my life easier!"
Cheryl MacKelvie
Executive Assistant
Meetings and Membership, CA Association of Sanitation Agencies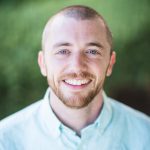 "Some of the feedback students have given us every year is that they don't always know what is going on throughout campus. With the app, we can easily have them look things up on their phone but also push notification reminders to them about events and programs they might want to go to."
Kris Czerwiec
Director of Student Leadership
College of Saint Mary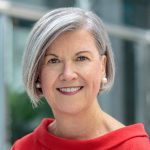 "We have been more than pleased with the working relationship between our teams in delivering this app to insurance professionals. Our initial success with the app demonstrates how you can get things done quickly when you pick the right partners for the job."
Karen Stakem Hornig
Chief Executive Officer
National Insurance Producer Registry