One Last Ask: Ideas for your app and year-end giving campaigns at your organization
November 19, 2018
By MobileUp Software
Many organizations turned up the heat on their year-end giving campaigns in September or October.
And now with about six weeks left in the year, it's time for the weather to turn colder and the intensity of fund-raising campaigns to grow even hotter.
Statistics show why with some studies indicating nearly one-third of annual giving occurs in December and approximately 12% of all giving happens in the last three days of the year.
There are also numerous organized events around the holidays such as #GivingTuesday that provide excellent opportunities for one last ask of supporters before the calendar ends.
So no doubt about it, the push is on!
As a MobileUp customer, we want to help your cause.
So in addition to your other activities, you will want to be sure to include your app in any year-end fund-raising strategies.
Here are three easy ways to raise awareness using the mobile engagement tools available to you.
Home Screen Tiles and Forms
As you might have heard, we recently streamlined the process for creating or modifying your home screen tiles on your own at any time.
Using these new tools, you can raise awareness about your fund-raising campaign and make it easy for app users to give by connecting a home screen tile to an existing giving form.
The following video provides an example of how to do this.
If your organization is a charity or non-profit, please take note Apple requires that your giving form must open on a website located outside your app in the Safari web browser as shown in the video.
Notifications
You most likely are promoting your year-end ask through email, direct mail, phone calls, and other methods.
With engagement levels up to five times higher than emails, notifications should also be in your communications mix.
It's pretty simple but effective!
Here is an example of how this might work: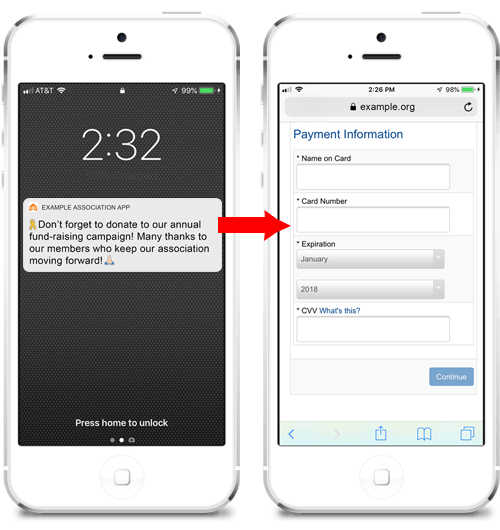 When you send the notification about your fund-raising campaign, remember you can include a link that sends taps on your notification directly to your giving form. Also, include an emoji or two to help increase the impact of your message.
Discussions
Your organization likely has individuals who feel strongly about giving and others who might need a little more encouragement.
Our Discussions feature provides an avenue to connect these two types of possible supporters in your mobile audience.
To start, create a Category in your Discussions module that will resonate with your mobile audience such as "Giving," "Make A Gift," or perhaps use the name of your year-end campaign if you have promoted it heavily.
Once inside the discussion topic, encourage one or more of your devoted givers to share the reasons why they make donations. Encourage the conversation by creating a home screen tile that connects to this Discussion category.
Who knows? Perhaps one or more of these testimonials and conversations will inspire someone who was unsure of giving to go ahead and make that donation.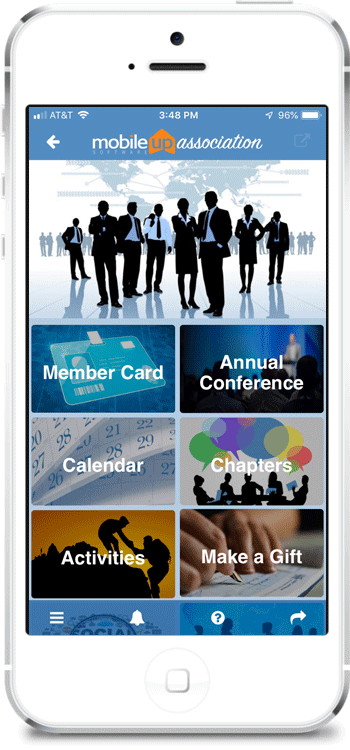 Good luck with your find-raising campaigns
For the majority of organizations, there isn't a single activity they can rely upon to ensure a successful year-end campaign. In fact, 
many donors require up to three contacts
 before they actually write a check or enter a credit card into a form. The good news for MobileUp customers is that making at least one of those contacts (or more) is easy through their app and the reach of mobile technology.
We are here to help!
If you need help adding any of these features to your app, 
ask us
 for more information or consult the MobileUp User Guide located inside your administrator tools.
Not a MobileUp customer yet?
Contact us for more information or request a demo to learn how we can help chart an engagement and growth strategy for you with our mobile delivery platform.