Whitepaper: 5 Ways To Sell In-App Sponsorships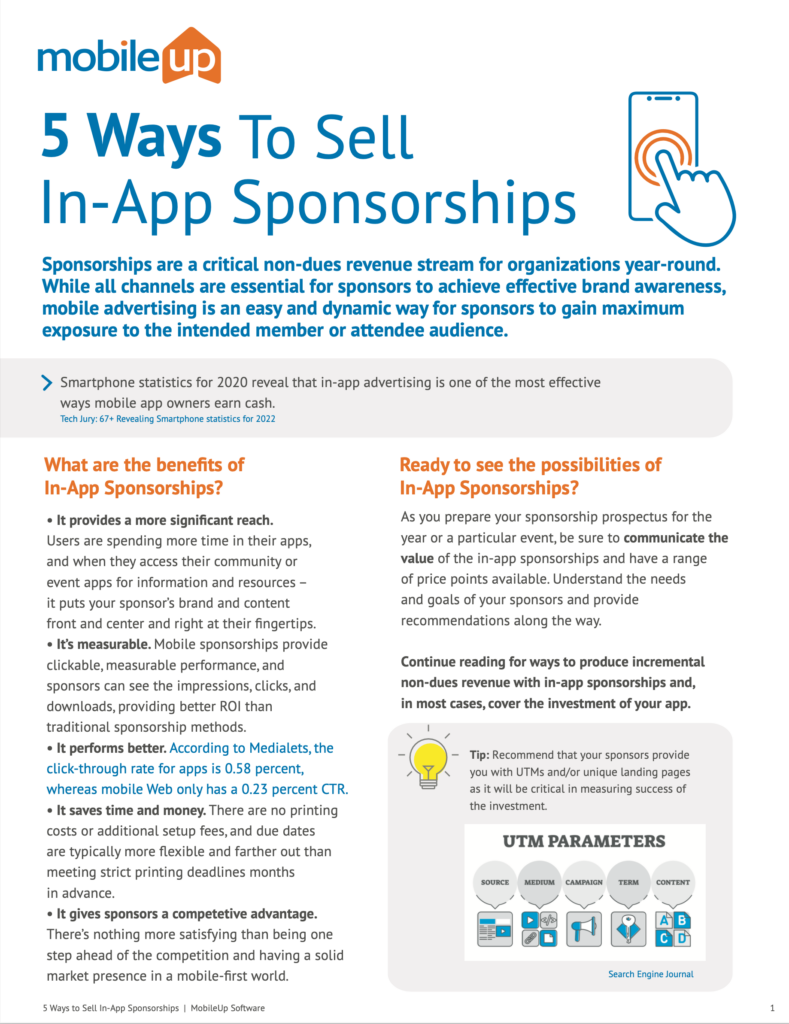 What are the benefits of In-App Sponsorships?
It provides a more significant reach. Users are spending more time in their apps, and when they access their community or event apps for information and resources. It puts your sponsor's brand and content front and center and right at their fingertips.
It's measurable. Mobile sponsorships provide clickable, measurable performance, and sponsors can see the impressions, clicks, and downloads, providing better ROI than traditional sponsorship methods.
It performs better. According to Medialets, the click-through rate for apps is 0.58 percent, whereas mobile Web only has a 0.23 percent CTR.
It saves time and money. There are no printing costs or additional setup fees, and due dates are typically more flexible and farther out than meeting strict printing deadlines months in advance.
It gives sponsors a competetive advantage. There's nothing more satisfying than being one step ahead of the competition and having a solid market presence in a mobile-first world.
Ready to see the possibilities of In-App Sponsorships?
As you prepare your sponsorship prospectus for the year or a particular event, be sure to communicate the value of the in-app sponsorships and have a range of price points available. Understand the needs and goals of your sponsors and provide recommendations along the way.
Continue reading for ways to produce incremental non-dues revenue with in-app sponsorships and, in most cases, cover the investment of your app.