After putting in a full day's work, members of your professional association are unlikely to come home and read the latest news on your website. What's worse? They probably will not respond to your email or return any voicemails you left during the day either. If you are a membership professional or director of an association, you understand these scenarios all too well. But there is hope! To remedy these situations, many associations are turning to native apps to bolster their communication strategies. It's a smart move and one that may be overdue for many associations as research shows nearly 
80 percent of US residents own smartphones
 and most of them 
spend at least two hours a day
 in an app. Beyond the research, you probably recognize the majority of your members have their smartphones with them during the day. If their attention is there, your association needs to be also.
Timing can be everything
So once your association decides to make the leap to mobile, the question of when to launch an app can be just as important as the content and features it provides. An opportunistic time to introduce your new app is during a conference. Not only do conferences bring your members together physically, they also provide one of the few times all year where you have their collective attention. Take advantage! Get your new app ready to go with all the features and content needed to make your members' conference experiences the best possible. Launch it to the masses and let them start getting familiar with the app. After the conference, you can keep the engagement going the rest of the year by adding standard membership features (digital ID cards, mobile payment reminders, discounts, etc.), connecting them to local chapters and events, and sending notifications.
A good first impression
The 
Oklahoma Veterinary Medical Association (OVMA)
 followed this blueprint with a new MobileUp-powered app at its recent annual conference in Norman, OK. The app included a blend of conference information and interactive features that encouraged the members to get familiar with the association's new technology as well as make new contacts with each other. Here are some of the goals the OVMA had for its app launch and some of the features it used to achieve them.
Goal: Provide Information and Personalization
Before getting too fancy with interactivity, the app needed to provide essential information about the conference in a convenient and easy-to-consume manner. (And hopefully reduce some printing costs too!) And when possible, members needed to be able to save session information that was especially relevant to their interests.
The conference calendar, which can be imported from existing Google or iCal calendars, presents each day's schedule. Members can save individual events to their "My Itinerary" section with a tap on the buttons.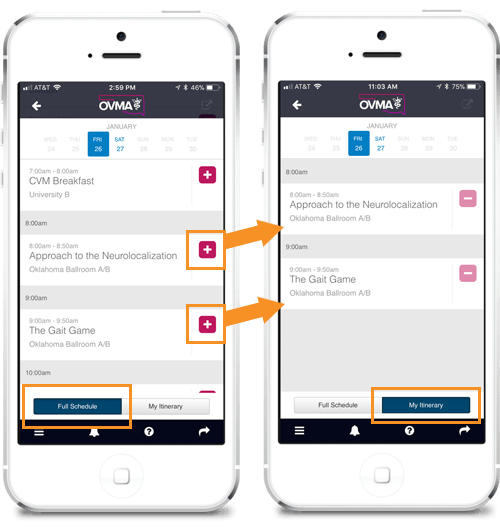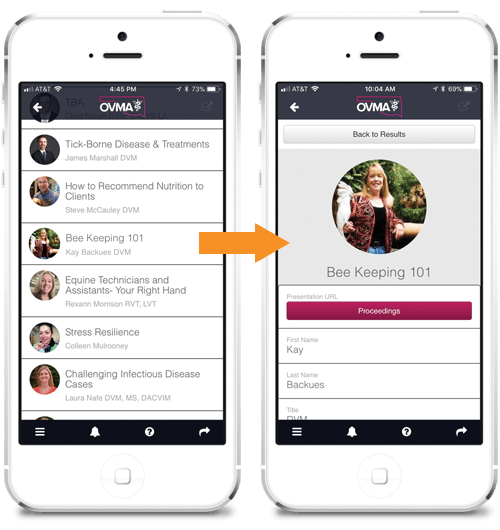 The app also included information on each session with the ability to tap into details on each speaker and their presentation notes.
Goal: Networking
It seems fewer people carry business cards anymore. The app needed to help members remember new people they meet during networking hours at the conference by saving contact information.
The app included a directory of attendees. Any entry in the directory can be saved to the personal contacts on a member's smartphone with a few taps.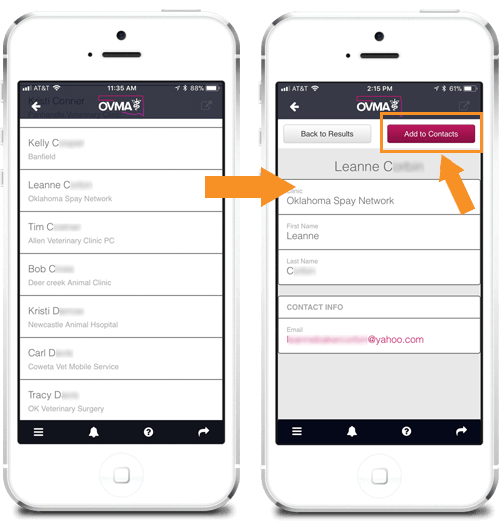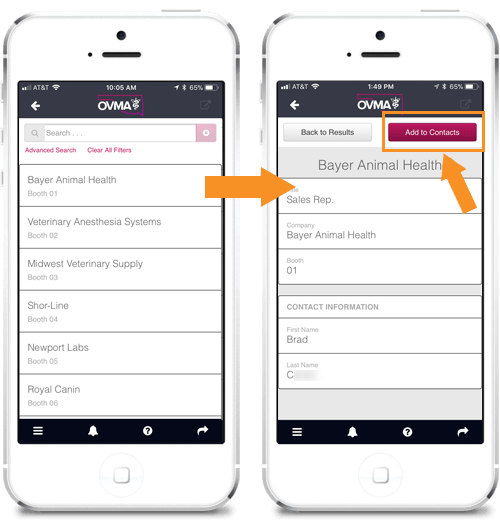 Similar to the directory, members could browse the list of exhibitors or sponsors with booth numbers and save a key contact from each vendor to their smartphone contacts with a tap.
Goal: Activites and Competitions
Every conference has a need to increase attendee traffic inside the convention floor where the event sponsors and exhibitors have their booths. The app played a role in this, encouraging members to interact with each other and the vendors in attendance through its version of the "stamp game" that is common at most trade shows. Here is how it worked: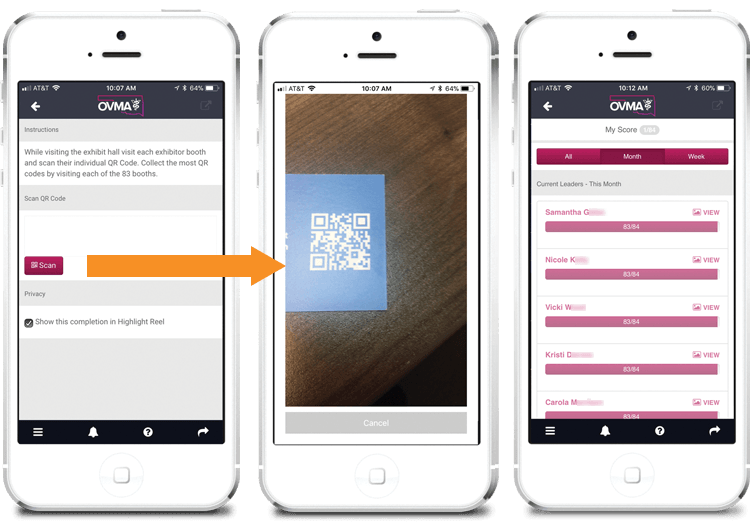 The OVMA gave each vendor a unique QR code to display at its booth. Attendees visited the vendor booths and used a built-in QR code reader in their apps to scan the booth's code. A leaderboard kept members in competition to complete the scans in the exhibit hall.
With each scan, attendees were made eligible for door prizes and a record of which booth they visited was recorded in their participation record (visible within the MobileUp app administrator tools).
More incentive: If an attendee scanned at least 75 of the 83 vendors, he or she was entered into a drawing for a free registration at the next OVMA Convention in 2019.
Favorable Early Returns
All told, nearly 300 attendees downloaded the app during the conference and completed more than 1,600 scans in addition to managing their conference sessions and collecting contacts.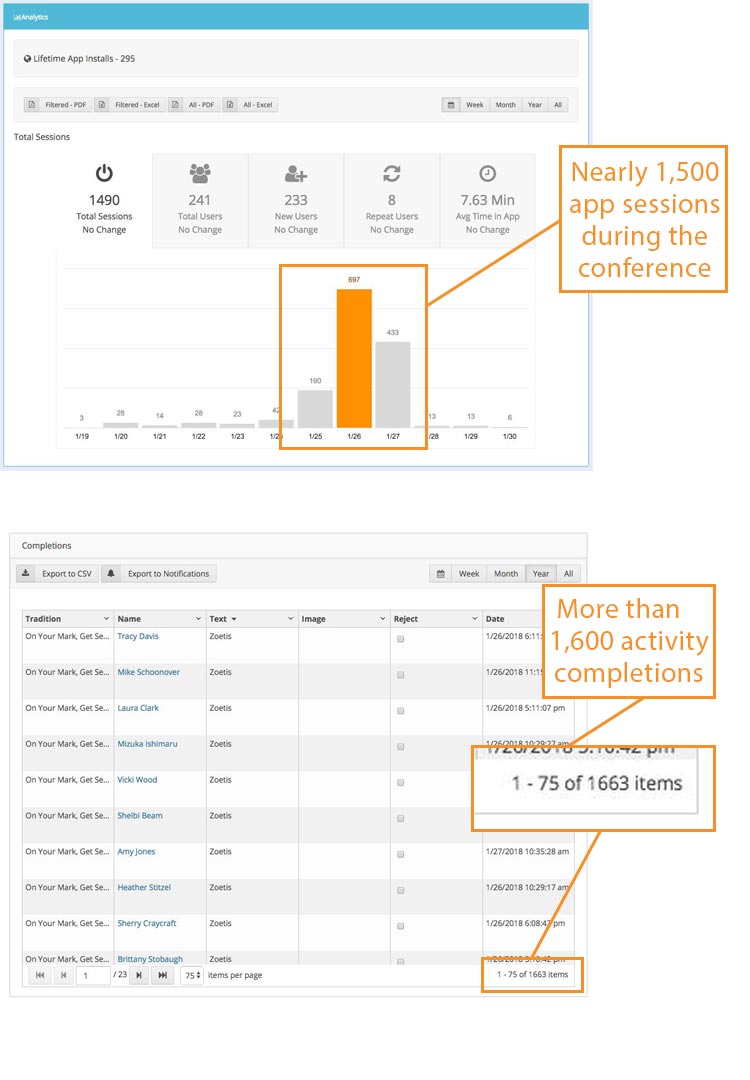 Conference + App launch = Success
Of course, apps can be launched any time of year. However, releasing one in conjunction with an association event provides some built-in advantages. As demonstrated by the OVMA and its members' participation levels, annual conferences specifically provide inviting forums to launch association apps. "Our members liked the convenience of having the conference information available in the app," said Amanda Meeks, Executive Director of the Oklahoma Veterinary Medical Association. "We are looking forward to using the app all year by adding membership and other features. We believe it will provide a higher level of communication and engagement between our association and members moving forward."