There are many features you can include in your MobileUp app. But sometimes, it's best to go back to the basics.
Just follow the example set by Mikalah Boehmer, Director of Student Activities at Missouri Valley College in Marshall, MO.
Like all MobileUp clients, Boehmer's goal is to use her school's app as a primary resource for communicating and engaging with students.
The keys, of course, are:
to make students aware the app exists in the first place
and to give them a good reason to keep the app on their smartphones.
Can I See Your ID Please…
Her strategy to meet these goals included an essential: Student ID cards.
Like most colleges, Missouri Valley College students need their ID cards with barcodes to access campus buildings or pay for items at the recreation center, cafeteria, and residence halls.
The digital card provides a convenience for students and also shows them instant value in having the Missouri Valley College app among the dozens of others likely already on their smartphone.
"We still have the physical ID cards but they tend to get lost and cost $15 to replace," Boehmer said. "Most students want to avoid that. They would much rather use the app and download the ID card to that."
Boehmer and her team introduce the app to students starting with each freshman orientation.
There, they explain the benefits of the digital ID card and also include a few other essentials for newcomers such as a campus map.
Boehmer also recruits the school's residence hall directors to spread the word.
"This encourages the students to download the app and begin to work with it," Boehmer said. "Then because of that, we are able to send push notifications and use some of the other features. It's good for students but it is also really good for us. Now, we have an effective way to notify them about events and activities."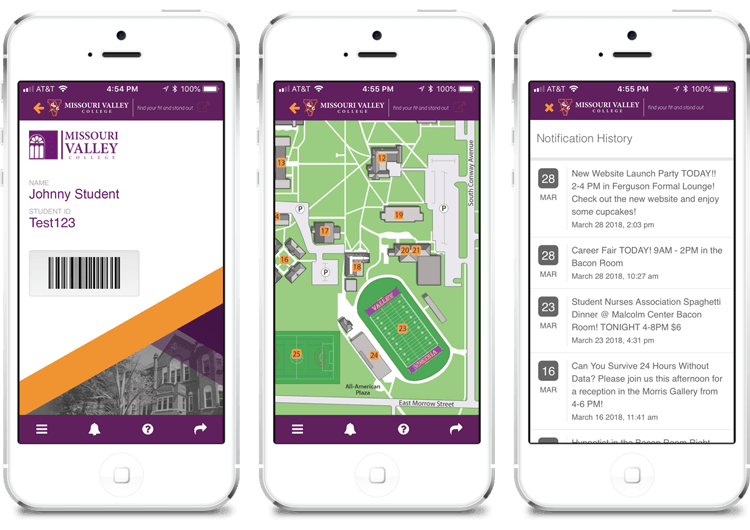 The student activities team includes essential items such as a digital ID card and a campus map to get students (especially freshmen and new students) used to opening the Missouri Valley app on a daily basis. Notifications also help keep students engaged.
Simple approach leads to steady engagement
The strategy of starting simple has helped grow the use of the app on the Missouri Valley campus.
Beyond the ID card and map, Boehmer and her team added calendars, dining menus, connections to Moodle, and other content.
As a result, the app averaged about 3,000 sessions a month for the 2017-18 school year at the small Midwestern college.
App drives campus connections
And as downloads and sessions increase, the school has also seen a positive return on its investment in a MobileUp app.
"A big factor in getting the app was we knew we needed another way to reach students," Boehmer said. "We have campus TVs that scroll information. We use flyers. We have email. We also know this is a generation of students who always have phones in their hands. I think the app is more effective than any of the other things we use."
Another example of "essential" content is a directory of campus offices and numbers that can be searched and dialed directly from the app.